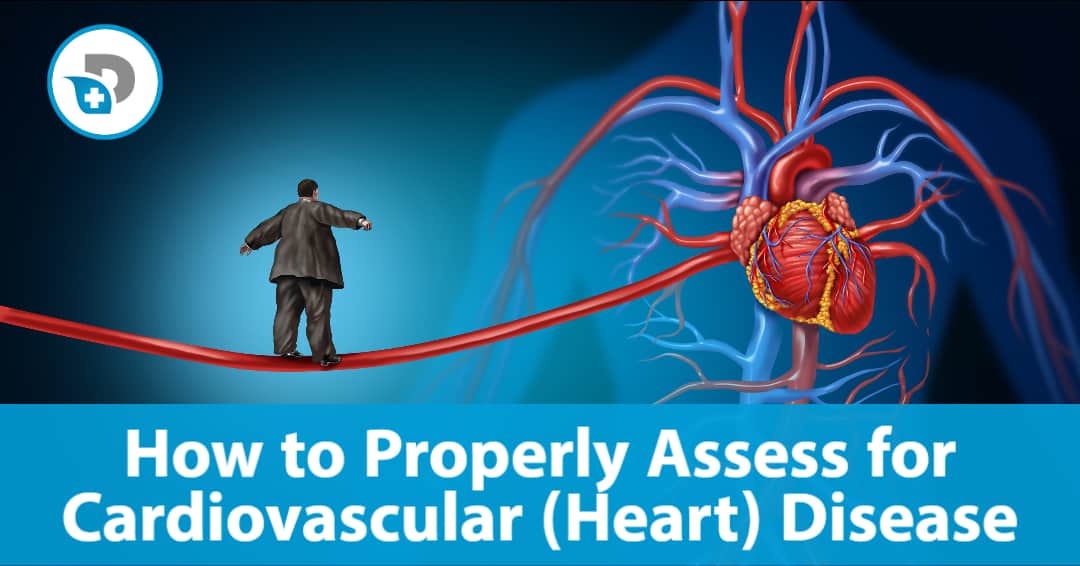 Heart attacks and strokes, the earliest symptom for most people afflicted with cardiovascular disease and heart related deaths, are no laughing matter.
Many of us have the misfortune knowing someone who has suffered from cardiovascular diseases including heart attacks, stroke, high blood pressure, congestive heart failure, arrhythmias, etc.
The facts and figures surrounding heart attacks and cardiovascular disease are scary. 
Some of the most frightening are:
Over 370,000 people are killed annually by cardiovascular disease in the United States. [1]
Heart disease is the leading cause of death for both men and women. [1]
Every year, about 735,000 Americans have a heart attack. [2]
Unfortunately, with this great cause of mortality looming in the background, there's the common misconception that high cholesterol is solely to blame.
In fact, cholesterol has become a dirty word in the last few decades.
Misunderstanding surrounding cholesterol has attributed it to just about every heart attack since it was put on the forefront of the national health discussion.
In the process, it's put certain foods containing saturated fats (like meat, eggs, butter and nuts) on the defense.
Myths still persist today that cholesterol is destroying your health and is the one and only cause of heart disease. 
In fact, there is a whole body of research that has been put forth over the last fifty years that suggests otherwise. 
More important is figuring out why your cholesterol is elevated.
Most doctors simply aim to lower your cholesterol, completely ignoring the actual causes of elevated cholesterol. This results in the problem continuing to get worse, despite the fact that your cholesterol is normal.
The result: People are now dying from heart diseases, but with normal cholesterol.
When it comes to cardiovascular disease and heart attacks, as with any disease, we know that an ounce of prevention is worth a pound of cure.
This is especially important to functional medicine practitioners.
Cholesterol Alone is not a Good Indicator of Cardiovascular Disease
Lowering Cholesterol Doesn't Reduce Cardiovascular Deaths
Most cholesterol panels and standard blood tests run by conventional medical doctors will tell you nothing about your risk of suffering from cardiovascular diseases including heart attacks or strokes.
That's why we get a little frustrated when we see conventional practitioners using cholesterol tests as the only indicator of heart disease and heart attack risk. 
We understand, based on the most recent medical research, that this paints both an inaccurate and incomplete picture of the patient's risk of heart attack.  
In fact, this practice can be downright misleading; suggesting that a patient with "normal" cholesterol numbers is not at risk for heart attack, when other indicators would suggest they are actually at high risk. 
Sadly, this is true in most cases and the numbers surrounding this fact don't lie: A 2009 study by UCLA concluded that almost 75 percent of patients hospitalized for a heart attack had cholesterol levels indicating they were not a high risk for cardiovascular disease, based on current national cholesterol guidelines. [3]
Luckily for us, there has been a great deal of research completed that gives a much clearer picture of what makes you susceptible to a heart attack.  
Based on this, we now know what to look for and have assembled risk assessments (combining and interpreting a number of different tests) which are able to predict if you or your loved ones are at risk for this silent killer.
Here's a graph taken from a scientific paper published in Nature Scientific Reports demonstrating that cholesterol levels lower than 200 mg/dl are associated with increased all-cause mortality!
It appears that the sweet spot is between 200 – 260 mg/dl.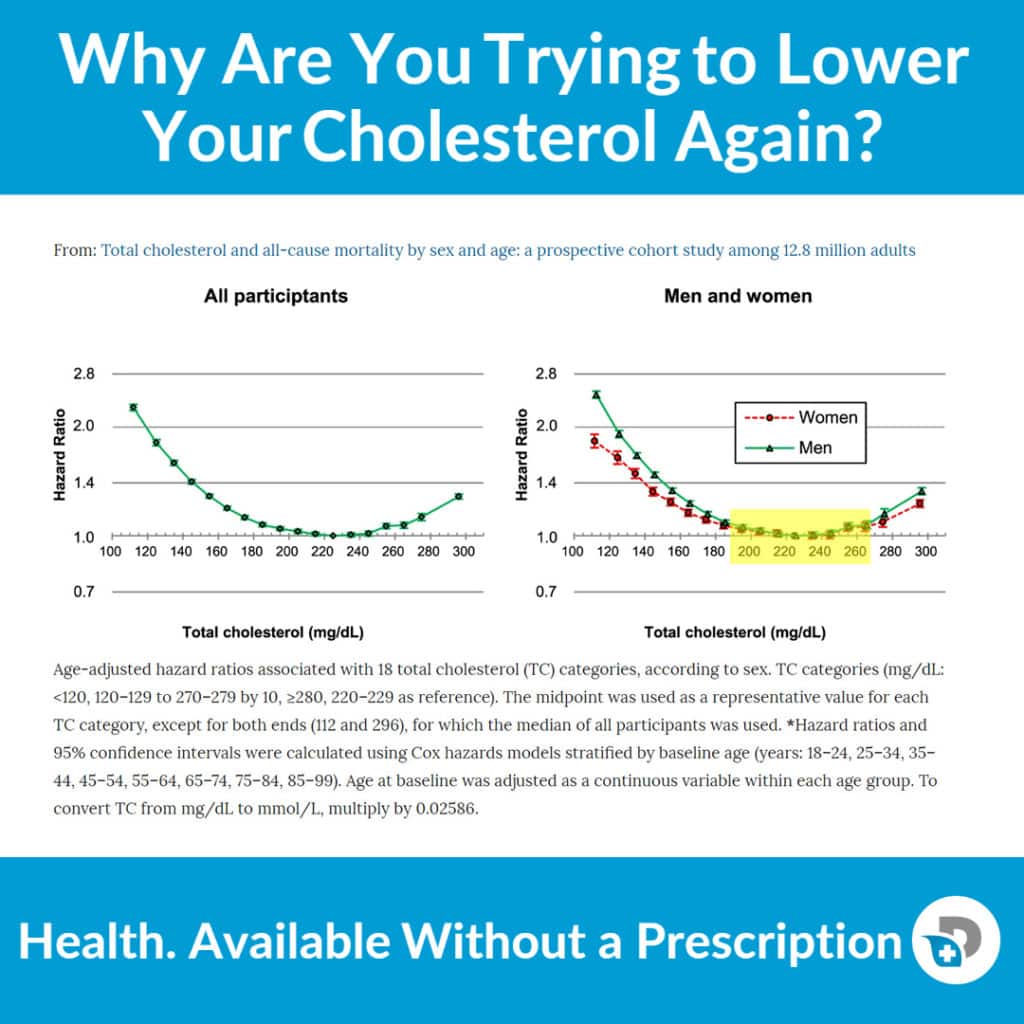 Heart Disease Prevention Begins with Proper Assessment
Most Doctors Order The Wrong Tests to Guage Heart Disease Risk.
A standard cholesterol panel, which includes Total Cholesterol, Triglycerides, HDL (good cholesterol) and LDL (bad cholesterol) is not enough to determine your risk of developing heart disease.
Advanced lipid testing is an important piece of the heart attack risk puzzle.
This provides an excellent look inside your body which enables us to see in more detail some of the biochemical aspects we know to be important to your cardiovascular health.
Some of the most basic lipid testing components include:
Triglycerides – These are a type of fat found in your blood. After you've eaten, your body manufactures these with any calories it doesn't need right away. The triglycerides are then stored in your fat cells and released later by your hormones for energy. If you regularly eat more calories than you need (especially from carbohydrates), you'll likely have high triglycerides which increases your risk of heart attack.
Low-density Lipoprotein (LDL) cholesterol – Nicknamed "bad" cholesterol, LDL cholesterol is the main source of plaque that causes your arteries to harden and put you at risk of heart attack.
High-density Lipoprotein (HDL) cholesterol – Nicknamed "good" cholesterol, HDL cholesterol "cleans" LDL cholesterol from your arteries. In general, the higher your HDL cholesterol, the better, especially when compared to LDL cholesterol
It's important to understand that up to 50 percent of those who have suffered heart attacks had "normal" cholesterol numbers. 
How can the large discrepancy between accurate diagnosis and standard cholesterol testing be prevented?
This is where advanced lipoprotein markers become important.
Advanced Lipoprotein markers include:
Lipoprotein Particle Numbers (LDL-P and HDL-P)
oxLDL
hs-CRP
Homocysteine
Apolipoprotein A-1
Apolipoprotein B
Lipoprotein (a)
Insulin 
Measuring the lipoprotein subgroups is the only way to evaluate new risk factors, which is crucial for an accurate assessment of cardiovascular risk – according to the National Cholesterol Education Program (NCEP).
Additional Risk Assessments for Heart Disease
In addition to the advanced lipoprotein biomarkers, I recommend getting the following tests to assess your overall risk of heart disease:
Blood Pressure
Biometrics (Hip to Waist ratio, Body Fat %, Lean Muscle Mass)
Carotid Intima-Media Thickness (CIMT)
Calcium Scoring
Blood Pressure
Blood pressure is a simple, straightforward measurement that we use to measure whether or not you have hypertension. Hypertension, or high blood pressure, and is a good, baseline indicator of your risk for heart attack. Hypertension causes wear and tear on the arteries that supply blood to your heart. This leads to a slow narrowing of your arteries from an excess buildup of cholesterol and fat (otherwise known as atherosclerosis). This narrowing of the arteries can cause a situation where clots become likely to form. These clots can then block blood from reaching the heart, causing a heart attack.
Biometrics
Biometrics are distinctive, measurable physical characteristics used to describe your individual body and can oftentimes have a direct correlation to your health or risk of disease. These characteristics can change over time, which makes them excellent for tracking your health over a long period. Recent research has been able to determine which biometrics point to your risk of heart attack. The most important biometrics we measure for heart attack risk include body fat percentage, hip to waist ratio and visceral fat.
Carotid Intima-Media Thickness Test (CIMT)
A CIMT scan uses ultrasound to detect heart attack risk before symptoms occur. The CIMT scan determines the thickness of the two inner layers of your carotid arteries (the intima and media) and gives us a good indication of your health and your heart attack risk. If increased thickness is found in either the intima or media by the CIMT scan, then it gives us a good indication that there may be plaque forming in your arteries. We can then recommend an aggressive approach to manage your risk factors for heart attack. The scan is quick – lasting about 10 minutes – and completely non-invasive. No preparation is required and you don't need to worry about any radiation or injections.
Now you know that there is more to the heart attack story than just total cholesterol. 
You should understand that that there a wide variety of factors to consider and measure when it comes to heart attack risk. 
We can help to both measure and mitigate these risks for you, and your loved ones, so you can enjoy many happy, healthy years together.
Contact us today to determine which tests you should consider to determine your heart attack risk – before it happens.