You Can Become a Functional Medicine Member.
Optimize Health. Do it Naturally. Be Better.
Through a Functional Medicine approach, Dr. Daniel helps you to find the root cause of your health problems, and tailor a health program just for you.
It's difficult to give an exact amount because different people require different amounts of testing and care. However, Dr. Daniel prides himself on being efficient and cost effective. Currently Dr. Daniel offers a $149/month Functional Medicine Membership. There's no long term contracts or additional fees. 
Health.
Now Available without a Prescription.
Dr. Daniel provides a Functional Health Approach that identifies the root cause of common chronic health conditions, and aims to improve health without the use of medications or surgery.
Conditions We Can Help With
Digestive Disorders (IBS, IBD, GERD, Leaky Gut, SIBO, Food Intolerance)
HPA-Dysfunction (Adrenal Fatigue, Stress)
Heart Health (Cholesterol, Blood Pressure)
Anxiety, Depression & Cognitive Disorders
Acne, Eczema, Psoriasis and Skin Conditions
So Easy, Anyone Can Do It.
Initial Investigation & Assessment
Evaluation of Findings & Planning
Re-Evaluation & Optimization
Initial Investigation & Assessment
As soon as you sign up, you will be directed to the members area of my functional medicine practice. Here you will begin the process of familiarizing yourself and completing intake forms, sharing your personal and family history and begin the process of self-health tracking.
Evaluation of Findings & Planning
Re-Evaluation & Optimization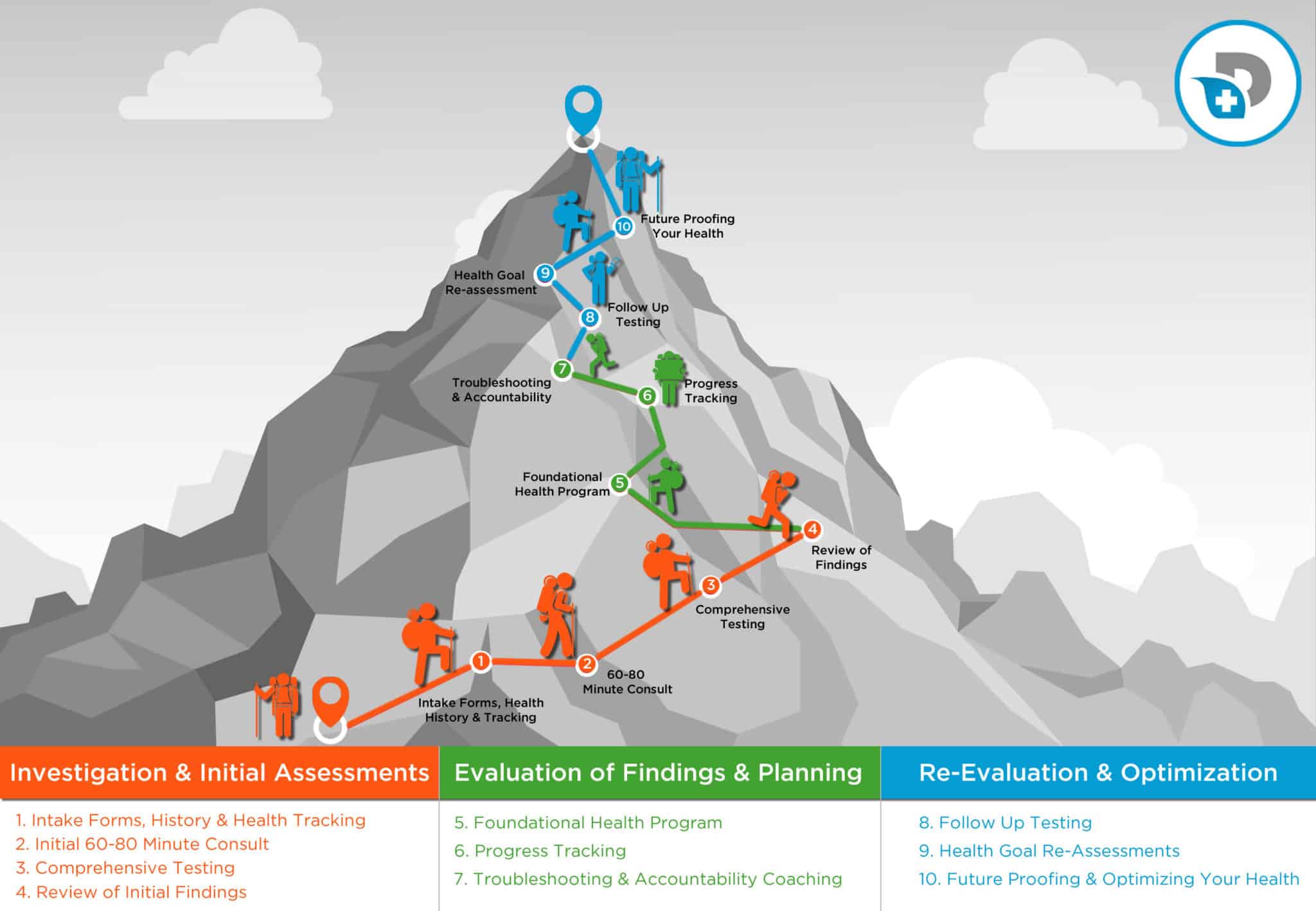 What Other People Are Saying...
Dr Gonzales is very good and thorough as a functional medicine practitioner. He helped me in many ways and is very caring in the process.

Duane King
17:37 08 Sep 23
About 3 years ago I developed severe acne, digestive problems and chronic fatigue after a parasite infection from traveling in another country. At first, I didn't think much, but time went on and I started to realize that I wasn't getting any better. So I started visiting doctor after doctor to try and solve my health issues. It seemed like the only solutions offered were birth control, antibiotics and antidepressants. At first I followed all of my doctors advice and for a while it seemed like the medications were helping, but then I started to experience worse cramping and my acne came back with a vengeance. This is when someone referred me to Dr. Daniel. Dr. Daniel explained to me what he though was going on. We did some initial testing, which was the most comprehensive testing a doctor had ever ordered. When the results came back, Dr. Daniel gave me some specific recommendations that I followed. His treatment plan was specific and he was always available when I had questions. At first, I was concerned, because we were working on things for about 6 months with no improvement. But then I turned a corner and everything changed. At about 8 months into my treatment plan, all my acne had cleared, my digestive issues were 50% better and I no longer suffered from fatigue. In fact, I feel like I have more energy than ever before. All I can say is that Dr. Daniel discovered things that no other doctors would even consider. I'm so thankful that I worked with Dr. D and I would highly recommend him to anyone of my family members and friends.

Isabella Nunez
01:30 24 Jun 23
I'm a professional athlete and stunt double for major motion pictures. I put my body through ridiculous amounts of stress, wear and tear and even create metabolic problems for myself because of certain types of diets that I have had to adhere to over the years. For 2 years now, I've been working with Dr. Daniel remotely. His service is the best around in terms of price and the information he delivers. He always been super nice, courteous and caring. The only thing is that YOU have to be responsible for your own health. HE will not, and actually CANNOT, do it for you. His fee is $149/month and that gets you as many visits as you'd like (if you need them), but it's up to you to execute. He won't hold your hand, but he will give you the information you need to get well. If you're serious about your health and if you're responsible or understand the importance of personal responsibility, then this is your doctor.

Anthony Garcia
21:08 22 Jun 23
Dr. Daniel has been thorough, clearly explaining what my health issues are and how to address them. He is quick to respond to messages, and the changes he has recommended for me have been very helpful already. I have seen several nutritionists over the years and even have a background in nutrition myself, and I can confidently say that Dr. Daniel has offered me the most comprehensive and easily understandable evaluations I have had yet. I completely recommend his practice!

Becky Smith
17:26 12 Mar 23
Dr. Daniel, is great to work with! He gives an in depth analysis based on your blood work and will set up a plan that is easy to follow to help you get your health back. The best part is that he is easy to communicate with and his team is as well.

Eastside Lumber
16:18 27 Jan 23
I highly recommend Dr. Daniel!!! I was spiraling down with my health when he turned my life around. Here's my story: I used to consider myself pretty healthy until six years ago when I turned 50. That's when I began to have muscle and joint pain. I used to exercise all the time but this time I couldn't because I was constantly in pain. I tried different things to get rid of the pain like NSAIDs, diet changes, physical therapy and stretching but nothing helped. I found myself desperately searching for answers on the Internet but unable to figure out what was wrong with me. I finally went to my primary care doctor who ran some blood tests but everything came back normal. I convinced myself that I must be out of shape, so I began slowly by walking 2 to 3 miles every day and eventually adding 2 pound weights, but after six months I still had pain. I continued to suffer in silence because no one wanted to hear me complain about my pain anymore. I was feeling depressed thinking this is my new normal. Then in July of this year, I heard about functional medicine and how they try to get to the root of health problems. I researched every functional medicine doctor and was impressed with Dr. Daniel's approach. After making an appointment, they had me fill out a very thorough health history intake form that asked detail questions all the way back to my childhood, which was unlike any other intake form I had ever filled out at any doctor's office. So right from the start I knew I was at the right place. I initially had an hour long appointment with his nurse practitioner, Megan Biggs, who reviewed my health history in detail. Then soon after that appointment, I had another hour long appointment with Dr. Daniel. Based on the red flags identified on my health history, he ordered blood work that revealed vitamin deficiencies as well as thyroid and immune dysfunctions. Within a week of starting me on his treatment which included diet changes and vitamin supplements, my muscle pain went away!! After six years of suffering, I finally started feeling like my normal self. Within a month of treatment my joint pain was gone. After two months of treatment my thyroid dysfunction normalized. Additional test revealed that I also have inflammation in my gut and I am confident that with Dr. Daniel's treatment plan my immune dysfunction will improve.What I love about Dr. Daniel is that he focuses on healing your body without medication. He digs deeper with the labs he orders to see what is not functioning well. The pain I was experiencing was a signal that something was wrong, and Dr. Daniel figured it out. I have learned so much from him about how to eat healthier to give my body the nutrients it needs and how gut health is essential for normal immune function. Thank you for giving me my life back, Dr. Daniel!! If you are suffering from any health problems that you've been unable to resolve on your own or with your doctor, or if you've been diagnosed with a chronic disease and are seeking a possible alternative to prescription medication, please do yourself a favor and make an appointment with Dr. Daniel.

Loretta King
16:10 28 Dec 22
I'm blown away by the levels of support I get from Dr. Daniel and his team. I am a health coach and Olympic weightlifter who wants to improve performance and also dig deeper to figure out the cause of headaches I've had since I was little.I love the fact that we can have weekly calls - it makes my adjustments easier. I am so impressed with the level of reporting and support tools - guides, articles and more. Super grateful to have found Dr. Daniel - just 3 months in I'm PRing at the gym and the frequency of my headaches was reduced significantly. Thank you so much, Dr. Daniel and the team, to help me take my health to the next level and making this journey pleasant and affordable.

Anya Perry
16:42 06 Aug 20
Dr D helped me through a really rough time when I had stomach issues that caused all sorts of issues with my physical and mental well being. I spent months trying to determine what was going on, visited numerous Dr and Specialist that all gave me text book answers, ordered test then rescheduled me for a follow up 6-8 weeks out. This went on for 6-8 months until I talked to Dr D. He ACTUALLY listened to me, spent an hour going over everything, asked for all my test results then followed back up few days later. Next step he Ordered new testing that should have been done months ago, grabbed those results and contacted me back the following week and set up a game plan to repair the gut and get me back to a healthy life.EVERY time we talked he gave me as much time as I needed, actually listened to me and his video responses explained what was going on and steps we would take.Can't say enough about Dr D as a health care provider who really cares and a friend who listens.Thanks Dr for doing so much to help me through this really rough period of my life

Mark Schuh
00:14 25 Jan 20
I been working with Dr. Daniel for only a short period of time. I decided to go to him for the Functional Medicine because my lab work was showing some elevated numbers that concerned me. He order more lab work and his first approach was to change my diet for 30 days. By the fifth day of me being on this diet I notice my neck pain had disappeared. I had suffered from neck pain for years. I'm also noticing my feet don't hurt as much in the morning when I get up. I even went on a short jog the other day which is a miracle for me. I'm not done with my 30 day diet, but I'm looking forward to seeing an improvement in my lab work. I had no idea that my diet was causing inflammation in my body. Thank you Dr. Daniel for helping me improve my health.

Dr Daniel is a breath of fresh air! I first sought his help in treating my baby's eczema. He made several dietary recommendations and his eczema quickly cleared! I was so impressed that I signed up as well. He was very thorough in his approach and very organized and easy to work with. Although I didn't have specific health issues, he really helped me to optimize my nutrient intake and "course correct" for a healthier future. Highly recommend!

Kristen Schmidt
12:13 18 Jul 19


Rue Olson Dwyer
19:31 23 Sep 17
My entire family has been apart of Dr. G's patient family since the first day he opened his doors and we are a healthy family because of him. I'm so lucky to have meet him and my referrals feel the same way.

J Williams
11:33 08 Aug 17