You Can Become a Functional Medicine Member.
Optimize Health. Do it Naturally. Be Better.
Through a Functional Medicine approach, Dr. Daniel helps you to find the root cause of your health problems, and tailor a health program just for you.
It's difficult to give an exact amount because different people require different amounts of testing and care. However, Dr. Daniel prides himself on being efficient and cost effective. Currently Dr. Daniel offers a $149/month Functional Medicine Membership. There's no long term contracts or additional fees. 
Health.
Now Available without a Prescription.
Dr. Daniel provides a Functional Health Approach that identifies the root cause of common chronic health conditions, and aims to improve health without the use of medications or surgery.
Conditions We Can Help With
Digestive Disorders (IBS, IBD, GERD, Leaky Gut, SIBO, Food Intolerance)
HPA-Dysfunction (Adrenal Fatigue, Stress)
Heart Health (Cholesterol, Blood Pressure)
Anxiety, Depression & Cognitive Disorders
Acne, Eczema, Psoriasis and Skin Conditions
So Easy, Anyone Can Do It.
Initial Investigation & Assessment
Evaluation of Findings & Planning
Re-Evaluation & Optimization
Initial Investigation & Assessment
As soon as you sign up, you will be directed to the members area of my functional medicine practice. Here you will begin the process of familiarizing yourself and completing intake forms, sharing your personal and family history and begin the process of self-health tracking.
Evaluation of Findings & Planning
Re-Evaluation & Optimization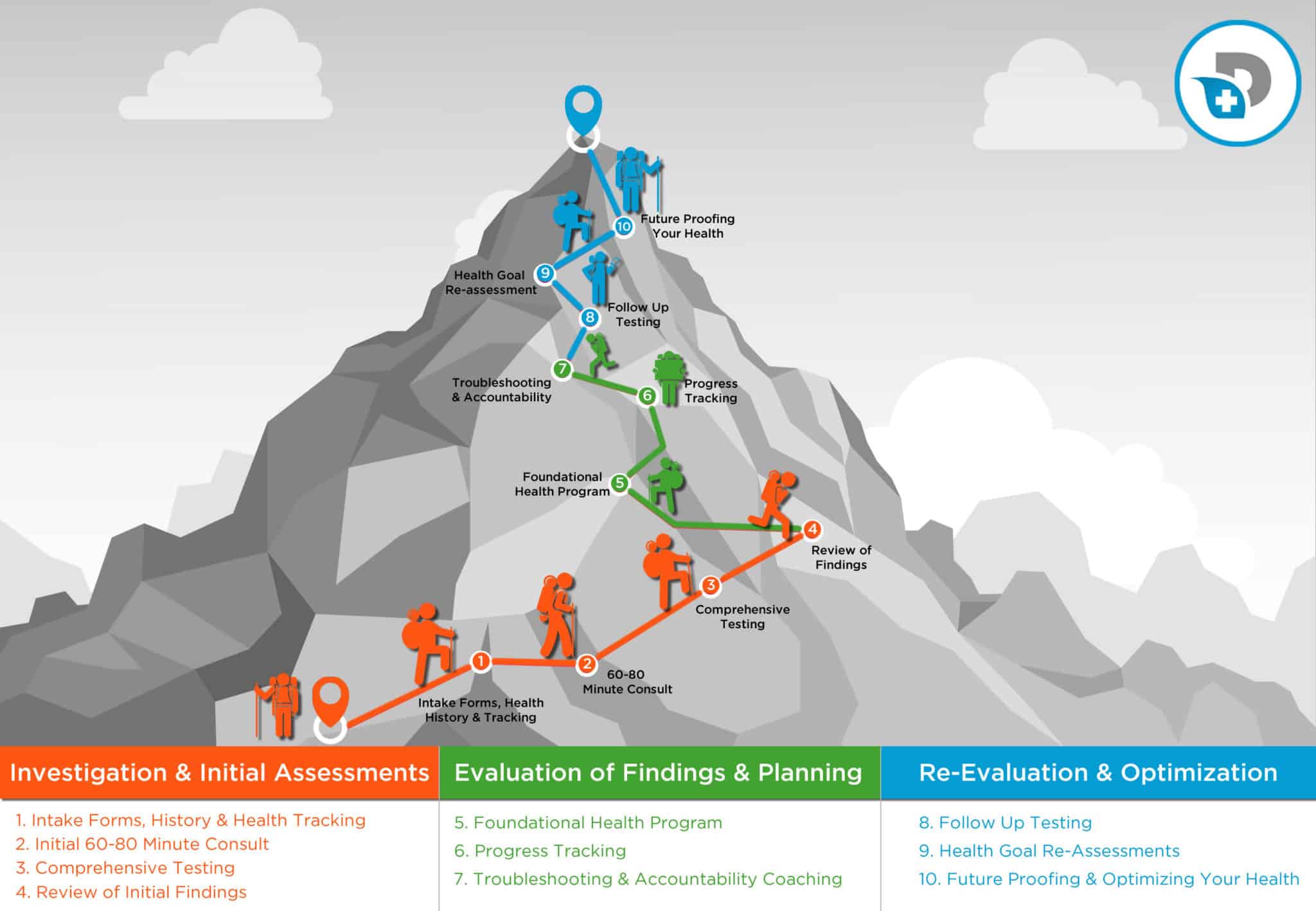 What Other People Are Saying...
I've struggled with a thyroid condition called Hashimoto's for over 15 years. I've consulted with dozens of doctors including "experts" who all seemed to simply prescribe a different medication and it all led to me being referred to a psychiatrist when nothing worked? It seemed that the standard treatment was to simply keep taking medication until my thyroid was destroyed, then they'd take it out. A friend of mine worked with Dr. Daniel and I figured I'd give him a try and all I can say is that my life has changed dramatically. Dr. Daniel took the time to educate me on all the reasons why my body was attacking my thyroid. No doctor ever told me how Hashimoto's could not only damage my thyroid, but contribute to digestive problems, brain fog and depression, inflammation and immune issues. My health and how I feel have never been better. Because of Dr. Daniel I am a better husband, father and employee. I tell everyone I know struggling with thyroid issues to seek him out.

Darold Tavares
14:12 28 Mar 21
I had a hard time recovering from my second child. I experienced anxiety/depression, chronic constipation, hair loss and chronic fatigue. Initially my doctors told me that it was all due to pregnancy and when my symptoms didn't go away, they started suggesting I see a psychiatrist. Dr. Daniel took the time to listen to me and was willing to do the necessary testing that eventually led to a diagnosis of autoimmunity. I'm now seeing improvements in my health and I'm so thankful that I know what was causing my problems and to have a plan to continue improving my health.

Jamie Dixon
20:45 16 Jan 21
As I approach my mid 60's, I have become increasingly interested in preserving my health and longevity. For most of my life, I've listened to the advice of doctors and it's served me well. However, I began to notice that my body was not responding to conventional treatments and I decided to approach my health from a different angle. Dr. Daniel has guided me as to what foods I should be eating (and avoiding), what supplements are necessary (and unnecessary) and most importantly, given me a road map to improve my health with a goal of increasing longevity.

Kevin Durham
14:48 17 Oct 20
I'm blown away by the levels of support I get from Dr. Daniel and his team. I am a health coach and Olympic weightlifter who wants to improve performance and also dig deeper to figure out the cause of headaches I've had since I was little.I love the fact that we can have weekly calls - it makes my adjustments easier. I am so impressed with the level of reporting and support tools - guides, articles and more. Super grateful to have found Dr. Daniel - just 3 months in I'm PRing at the gym and the frequency of my headaches was reduced significantly. Thank you so much, Dr. Daniel and the team, to help me take my health to the next level and making this journey pleasant and affordable.

Anya Perry
16:42 06 Aug 20
Dr. Daniel is my personal go to doctor for all things health and wellness. I've never had any significant health issues but at the same time most doctor visits seemed to be routine and never really spent much time looking into my health. So I decided to start working with Dr. Dan to see if there was anything that I (or previous doctors) was missing. From the first blood testing panel we did, we identified several potential problems that could have resulted in future health issues and over the course of several months we've been able to correct these problems and although i didn't feel bad, I can certainly say that I feel much better right now than before working with him. He's knowledgeable and spends the time necessary to understand your health.

Sam Berger
13:00 25 Feb 20
Dr D helped me through a really rough time when I had stomach issues that caused all sorts of issues with my physical and mental well being. I spent months trying to determine what was going on, visited numerous Dr and Specialist that all gave me text book answers, ordered test then rescheduled me for a follow up 6-8 weeks out. This went on for 6-8 months until I talked to Dr D. He ACTUALLY listened to me, spent an hour going over everything, asked for all my test results then followed back up few days later. Next step he Ordered new testing that should have been done months ago, grabbed those results and contacted me back the following week and set up a game plan to repair the gut and get me back to a healthy life.EVERY time we talked he gave me as much time as I needed, actually listened to me and his video responses explained what was going on and steps we would take.Can't say enough about Dr D as a health care provider who really cares and a friend who listens.Thanks Dr for doing so much to help me through this really rough period of my life

Mark Schuh
00:14 25 Jan 20
My digestion was so bad that I couldn't make it through a 2 hour movie without having a scare. I chose to avoid heavy traffic, didn't participate in school events and dating was pretty hard because I was embarrassed. I'm so much better now and I'm happy with the Functional Medicine services Dr. Daniel provides.

Lea Masters
14:28 24 Dec 19
I really don't know where to begin. Ever since I was a child, I suffered from all sorts of health problems including chronic ear infections, allergies and digestive issues. My whole life I struggled with gaining weight and having enough energy to exercise. Dr. Daniel has become the single leading cause of my return to good health after years of antibiotics, antidepressants, birth control and over the counter medications. I honestly didn't expect any major changes to occur and after 3 months of working with him, my health was better but not perfect. We started off with optimizing my nutrition and then proceeded to restore gut health. He taught me how connected by digestive system is with everything else and without having to do any major changes for my hormones, after cleaning up my gut, my hormones are all normal (which is a first) and I'm not even on birth control? Not only have I seen my symptoms go down over time, but the healing of my body from inside out has played a great part in me being in the best shape of my life mentally and physically. I highly recommend working with Dr. Daniel whether you have major health problems or not.

Hailey Bergen
20:54 26 Nov 19
I've worked with several natural medicine doctors and integrative clinics over the years and Dr. Dan has been one of the best. My health is good and I use him to give me a second opinion and guidance to make sure I'm not missing anything.

I been working with Dr. Daniel for only a short period of time. I decided to go to him for the Functional Medicine because my lab work was showing some elevated numbers that concerned me. He order more lab work and his first approach was to change my diet for 30 days. By the fifth day of me being on this diet I notice my neck pain had disappeared. I had suffered from neck pain for years. I'm also noticing my feet don't hurt as much in the morning when I get up. I even went on a short jog the other day which is a miracle for me. I'm not done with my 30 day diet, but I'm looking forward to seeing an improvement in my lab work. I had no idea that my diet was causing inflammation in my body. Thank you Dr. Daniel for helping me improve my health.

I've been working with Dr. Daniel for over a year now and I've been nothing but impressed with his guidance and continuous support. This journey has not been easy, but I am definitely in a better place and have more understanding of my body and my health. I recommend him to all my family and friends.

Andrea Hill
16:27 13 Sep 19
I'm a physician myself and fully admit that I don't have the knowledge or training to do what Dr. Daniel does for me. I know enough to eat healthy and exercise, but that is not enough to truly figure out what's missing. Having a second set of eyes on my health has been one of the best decisions I've made.

Alan Borders
19:54 30 Aug 19
Dr. Daniel has been so great to work with. He figured out things that no other doctor was able to see, even though they had the same information to work with. He won't hold your hand, but he will give you a clear path of what needs to be done to get better. The rest, as they say, is really up to you.

Patricia Sendero
20:07 02 Aug 19
Dr Daniel is a breath of fresh air! I first sought his help in treating my baby's eczema. He made several dietary recommendations and his eczema quickly cleared! I was so impressed that I signed up as well. He was very thorough in his approach and very organized and easy to work with. Although I didn't have specific health issues, he really helped me to optimize my nutrient intake and "course correct" for a healthier future. Highly recommend!

Kristen Schmidt
12:13 18 Jul 19
Dr. D is a rock star. He's the only doctor who has taken the time to properly explain to me what I needed to do to improve performance. I'm a professional athlete and going to doctors was something I hated. Just because I'm not overweight or have any chronic health problems they'd assume that nothing was wrong with me (even though I felt horrible inside). Dr. Daniel took the time to figure out why and all I can say is thank you!

Matt Gordon
22:00 27 Jun 19
Dr. Daniel has been a pleasure to work with. Not only is he well versed in natural medicine, but uses advanced medical testing to identify the cause of your problems and then provides specific, actionable steps towards correcting imbalances. If you're looking for someone to help you improve your health without jumping to medications or dangerous procedures, he's your doc! Thank you Dr. D for all you do.

Emily Thorpe
18:49 01 Jun 19
I've struggled with digestive issues and depression for years. It's always been something that I was embarrassed about and I hated the fact that I had to plan my life around whether or not a toilet would be available. After getting a few tests done, we discovered that my gut was housing a few parasites that no other specialist ever thought about looking for. I'm also convinced that my depression and anxiety were stemming from this same problem. I love Dr Daniel and can't recommend him enough.

Heather Harkey
22:22 04 May 19
What can I say, Dr D is the best doctor I've had a conversation with my entire life. I was growing tired of going to doctors and explaining my symptoms only to be written a prescription or told that I should just eat better and work on my stress. Dr Daniel not only took time to explain results to me but gave me actionable steps that led to resolution of my problems. I'm so much better in terms of health and I continue to use his guidance.

Jacob Saenz
22:13 04 May 19
I was referred to Dr. Daniel by my own doctor, who is in turn a patient of Dr. Daniel's chiropractic practice. I've been struggling with weight issues, thyroid imbalances and when I was diagnosed with type 2 diabetes last year I decided that more medications was not an option. My doctor told me that Dr. Daniel would work with me on improving my diet and getting my diabetes under control without medications. I'm so happy that he referred me to him because I've slowly been losing weight and my diabetes is under control without medications! I highly recommend Dr. Daniel to anyone looking for a natural approach to their health.

Sarah McBride
15:19 20 Apr 19

I took reflux medications for approximately 20 years and not one doctor ever told me that these medications were not meant to be taken long term. I heard about Dr. Daniel's Functional Medicine program from my wife's friend and after having an initial consult with him, I was so impressed by the amount of health information he shared that I decided he would be my partner in health. It's been 4 years and I'm the healthiest I've ever been.

Larry Germaine
15:30 18 Feb 19
I started seeing Dr. Daniel for autoimmune thyroid problems and weight gain. Of course I have tried every single diet out there and I was happy to learn that Dr. Daniel's treatment plan was not some crazy, can't eat anything diet. Rather, he helped me to figure out the best diet for me and after nearly a year of working with him, I'm leaner, healthier and happier than I've ever been.

Karen Brees
20:52 12 Dec 18
I cannot say enough great things about Dr. Daniel. For close to 15 years I struggled with hormone imbalances. My doctors kept switching my birth control, prescribing various hormone creams and then eventually antidepressants. When I realized how many different medications I was taking I decided to find a Functional Medicine doctor who could help. Dr. Daniel is comprehensive and makes sure that he knows whats happening before recommending treatment. I feel so much better and I'm happy to have found him!

Martha Anderson
20:45 12 Dec 18

Rue Olson Dwyer
19:31 23 Sep 17
My entire family has been apart of Dr. G's patient family since the first day he opened his doors and we are a healthy family because of him. I'm so lucky to have meet him and my referrals feel the same way.

J Williams
11:33 08 Aug 17