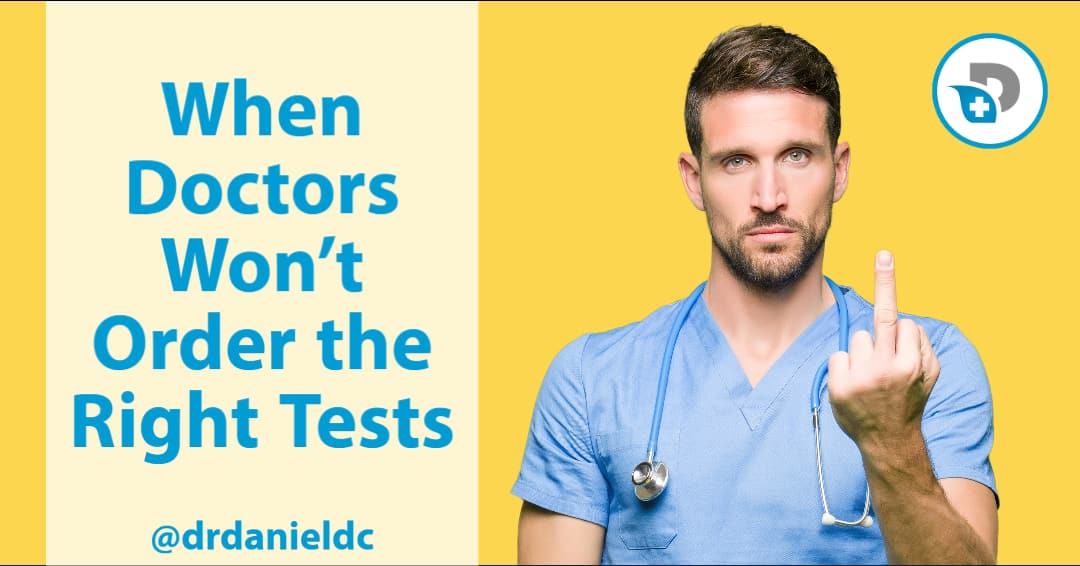 The conventional medical paradigm is all to often a dictatorship.
Regardless of how crappy you feel, or how obvious your symptoms may be, most doctors will take a wait and see approach.
If you ask your doctor be more comprehensive with your lab testing, chances are you'll get the classic, "Well, let's wait until you've developed a something more serious. Then we'll use the appropriate drugs to intervene."
But that's at a point where that illness has usually progressed so far that it's difficult to reverse.
This is how conventional medicine operates.
The functional medicine paradigm is different.
It consists of being more proactive and preventing these diseases from occurring in the first place.
And when you do that, when you catch these conditions early on, it's far easier to intervene and make changes than it is afterwards.
For example, with blood sugar problems, if you catch it at a stage when you've got high-normal blood sugar or even low-normal (pre-diabetic numbers) it's going to be far easier to intervene and there's a potential to reverse it.
The same is true with thyroid conditions. When you don't have all the data in front of you, you'll be told that you're fine when in fact you've got all the signs of a thyroid condition and failing to correct it will eventually result in a lifelong patient.
At that point, you're stuck probably needing insulin or thyroid meds your whole life. You can certainly improve things, but you may not be able to completely reverse it.
Most Doctors Won't Order the Right Thyroid Panels
A paper published in the journal Thyroid discovered substantial variability in thyroid testing practices across the healthcare landscape. [1]
This means that most clinicians out there are failing to use all the means necessary to figure out your thyroid problem.
As discussed in my eBook, Thyroid Disorders, there are 5 thyroid conditions that won't show up on routine lab analysis.
It's shocking to think that so many doctors prescribe medications for a condition that they don't really understand.
It's also important to understand that lab testing is only one tool in making a diagnosis.
A good clinician won't rely on lab testing alone.
They'll rely on their clinical experience, patient history, signs and symptoms. All of that is put together to develop a diagnosis.
Lab testing, at the end of the day, is just a snapshot in time and shouldn't be used alone to treat a patient.
In other words, we should treat the patient, not just their labs.
A good example of this are thyroid antibodies.
It's estimated that 20% to 35%, depending on what study you look at, of people with Hashimoto's don't test positive for thyroid antibodies. [2]
So you can't do a thyroid antibodies test, find that it's negative, and then rule out Hashimoto's for that reason.
You have to look at symptoms, clinical presentation, etc.
There are many, many different examples where lab testing is insufficient for one reason or another.
Of course, that doesn't mean we shouldn't do it.
It just means that it's only part of the overall picture and at the end of the day, you have to advocate for yourself and demand certain measurements!
Many Necessary Lab Tests Go Un-Ordered
I review a lot of blood chemistry and I can confidently say that more than 90% of the lab testing done, is routine and basic at best.
Again, this might be enough data to make sure you are not going to fall over during dinner, but it's certainly not enough to fully quantify your health.
A good, comprehensive blood panel will help to assess all major systems of the body including:
Inflammation Status
Glucose Regulation and Metabolism
Nutrient Status
Liver and Gallbladder Status
Kidney Function
Lipid Status
Red Blood Cell Function
Immune Status
Hormone Regulation
According to a 15 year Harvard research study, 30% of clinical lab testing is inappropriate and as many necessary tests go unordered. [3]
The researchers concluded that doctors order the wrong test, perform unnecessary testing or test at the wrong time.
Testing hormone regulation is a perfect example of this.
Below is an image showing the variability of Progesterone blood testing at different times of the day.
You can see that depending on when you get your blood drawn, you could be low, normal or even high.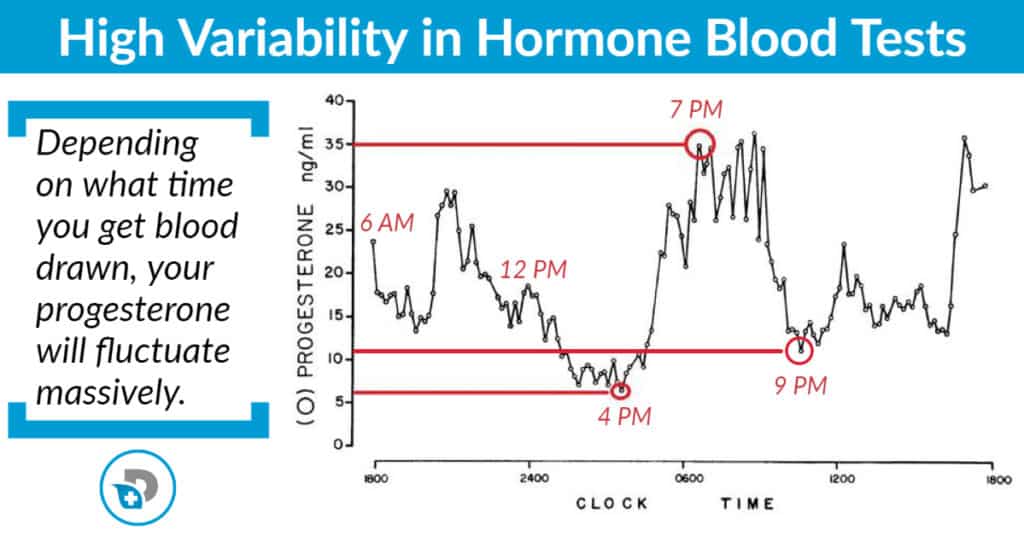 Summary
If you are suffering from a health condition and have only been told that you have a take a medication to treat it the rest of your life, I'd seriously question if you were assessed properly.
What if you could eliminate this diagnosis by simply fixing nutrient deficiencies or correcting physiologic imbalances?
As such, proper blood tests can highlight these vulnerabilities and guide healing protocols.
A few of the common tests often missing include:
Glucose Balance: HA1C, Insulin, C-Peptide and Fructosamine
Iron: Copper and Ferritin
Mineral Assessment: RBC Magnesium, Phosphorous, Zinc and Copper
Thyroid Function: Free T3, Reverse T3, Thyroid Antibodies
Vitamins: B12, Folate, Vitamin B1, Homocysteine, Vitamin D
Inflammation: hsCRP, IL1, IL4, Uric acid, TNF-A
Some doctors might be hesitant to order these tests. Don't waste your time! Find another doctor and move on.
A naturopath or functional medicine doctor is more likely to understand these tests and order them for you.
If you feel that you have unresolved symptoms, you must advocate for yourself and demand this baseline assessment.
Many of these tests are covered by insurance or are not terribly expensive.
Don't be afraid to push back if your doctor is dismissive.
The moments of awkwardness are worth understanding what's happening in your body.
References