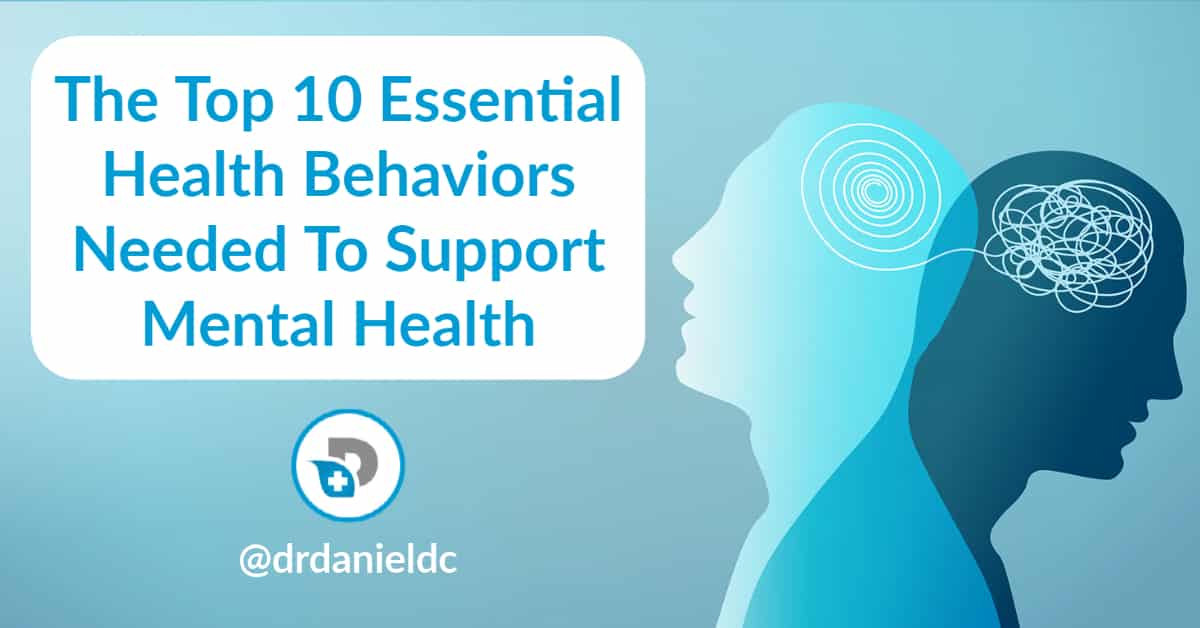 Add a header to begin generating the table of contents
Functional Medicine is an approach to health care that takes into consideration the whole person, not just the disease. It emphasizes prevention and personal responsibility in the diagnosis of illness, emphasizing active lifestyles for maintaining wellness.
There are many different solutions to treating mental health disorders, but what if we could find a natural approach? Mental disorders are not simply the result of a few brain chemicals gone awry, but an evolutionary mismatch between our ancient physiology and modern society.
In this article I'll outline the top 10 health behaviors necessary to successfully overcome mental health disorders.
1. Eating a Species Appropriate Diet
There is no question that nutrition plays a fundamental role in our health and ability to overcome chronic disease.
Optimizing our diet and nutrition can help to reverse heart disease, prevent cancer, treat autoimmunity and it can have a significant impact on our mental health and cognition.
Science has discovered that the standard American diet is correlated with increased risk and severity of mental illness, whereas an ancestral or species-appropriate diet is associated with improved mental health and capacity. [1]
In addition, there is a strong connection between gluten sensitivity and neuropsychiatric disorders. A systematic review of gluten and mood disorders demonstrated a strong association between mood disturbance and gluten intake in non-celiac gluten sensitive individuals. [2]
Not only does a nutrient dense, species appropriate diet consist of adequate B vitamins which are necessary for proper mental health function; but it would also contain adequate amounts of Vitamin D, zinc, copper, Omega 3 fatty acids and cholesterol.
B vitamins are essential for the production of neurotransmitters. [3] A deficiency of B vitamins could impair mental health and cognition.  
Vitamin D plays a critical role in supporting mental health by reducing inflammation pathways in the brain. [4]
Finally, a low intake of cholesterol is associated with increased mental illness and even suicidal thoughts. 
Consider the following:
A 1993 paper published in the Lancet reported, "Among men aged seventy years and older, categorically defined depression was three times more common in the group with low total plasma cholesterol . . . than in those with higher concentrations." [5]

A 2000 study published in Psychosomatic Medicine, researchers compared cholesterol levels to depressive symptoms in men ranging in age from forty to seventy. They found that men with long-term, low total cholesterol levels "have a higher prevalence of depressive symptoms" compared to those with higher cholesterol levels.

Women with low cholesterol levels are also vulnerable to depression. In 1998, Swedish researchers reported the results of their examination of cholesterol and depressive symptoms among 300 healthy women, ages thirty-one to sixty-five, in and around Stockholm. Women in the lowest cholesterol group (the bottom tenth percentile) suffered from significantly more depressive symptoms than did the others.

A 2001 study published in Psychiatry Research looked at primary care patients in Ireland, finding that low levels of cholesterol were linked to higher ratings on depression rating scales.

Italian researchers measured the cholesterol levels of 186 patients hospitalized for depression and found an association between low cholesterol and depressive symptoms.
Early evidence of a link between low cholesterol and suicide came from the Multiple Risk Factor Intervention Trial study, a large-scale, long- term look at various health factors involving hundreds of thousands of volunteers.
Data from the study was analyzed by researchers from the University of Minnesota, who found that people with total cholesterol levels lower than 160 mg/dL were more likely to commit suicide than those with higher cholesterol levels. [6]
Other studies are equally alarming:
A 2008 study looked at forty men who were hospitalized due to bipolar disorder. Twenty had attempted suicide at some point in the past, and the other twenty had not. Both cholesterol and blood fat levels were lower, on average, among those who had attempted suicide.

A paper published in the Journal of Clinical Psychiatry in the same year reported the results of an examination of cholesterol levels in 417 patients who had attempted suicide at some point, 155 hospitalized psychiatric patients who had not, and healthy controls. Results of the study suggest that low cholesterol may be associated with suicide attempts.

The suicidal method of choice, self-inflicted fatal gun wound versus pills, for example, may also be related to cholesterol levels. A2008 study published in Psychiatry Research compared nineteen people who had attempted suicide using violent methods to sixteen who had attempted to kill themselves nonviolently, as well as to twenty healthy controls. The researchers found that "violent suicide attempters had significantly lower total cholesterol and leptin levels compared with those with nonviolent suicide attempts."
2. Optimizing Digestive Health 
A recent study found that the gut microbiota is associated with mental health.
However, it's malleable and through probiotics or prebiotics you can improve both the composition of your microbiome, as well as alleviate symptoms such as depression and anxiety.
A Bifidobacteria-containing supplement was found to reduce levels depression among individuals who suffered from irritable bowel syndrome. [7]
Another research team reports how fermented milk containing Lacto bacterium casei improved anxiety symptoms among patients diagnosed with IBS. [8]
The beneficial effects of prebiotics and probiotics on mental health are attributed to their anti-inflammatory properties and their ability to produce GABA and serotonin, thus normalizing neurotransmission.
3. Improving Sleep Hygiene
A growing body of research indicates that insufficient and poor-quality sleep over the long term significantly increases the risk for mental health issues.
A lack or restricted amount of ZZZs has been linked to increased feelings distressful emotions such
regretfulness
guilt
anger
fear
panic
depression
anxiety 
A few considerations to improve sleep hygiene would include:
limiting your exposure to artificial light one to two hours before bed [9]
sleeping in a completely dark room with no glowing lights from alarm clocks or electronic devices
keeping the bedroom cool (between 60-70 degrees Fahrenheit) [10]
using nutritional supports such as magnesium threonate, apeginin and L-theanine
4. Getting Adequate Physical Activity
Exercise is the most promising intervention for supporting optimal mental health. 
Exercising shifts tryptophan away from quinolinic acid production, implicated in several different disorders including depression and anxiety disorder, to serotonin which will help you feel happier! [11] [12]
Exercise is one of the best ways to help manage your mood and stress levels.
Studies show that it not only helps you feel better, but also improves mental clarity by increasing chemical production in our brains which support neuroplasticity. [13]
5. Infrared or Dry Sauna
Saunas have been a popular form of heat therapy for years, but did you know they may also help support mental health?
Recent studies have found sauna sessions can be beneficial in relieving symptoms of depression.
Dr. Raison is a leading expert on the pathogen-host theory, which suggests that depression comes from an infection in our brain and not simply stress or bad moods. He advocates for heat to alleviate his patients with major depressive disorder because it has been shown time after time as an effective form of treatment!  [14] [15]
6. Bright Light Therapy
For people who suffer from seasonal affective disorder (SAD), bright light therapy has been recommended for decades.
This recommendation has grown even stronger in recent years due to research that shows how it aligns the circadian rhythm and helps alleviate symptoms across depression spectrum conditions like major depressive disorder or bipolar I disorder among others things. [16]
There are many options available when choosing between devices of different sizes at prices ranging all over; however, Alaska Northern Lights supplies excellent choices no matter what you're looking for!
7. Forest Bathing
Spending time in nature is a great way to improve your mental health.
Research has shown that accessibility and total amount spent green space positively affect subjective well-being, with forest bathing being found most effective at decreasing depression or anxiety levels among people who experience them regularly. [17] [18]
If you live close to a park, nature trail or preserve, make it a habit to visit often!
8. Build Meaningful Relationships
Loneliness causes psychosocial stress which can lead you down an unhealthy path with your mental well-being; however nurturing meaningful connections throughout the lifetime supports resilience in positive states
Research suggests that much of our social connectivity should happen in real life rather than online.
Final Thoughts
Mental illness is not a life sentence.
It's absolutely possible for people with mental illnesses to live better lives when their underlying causes and treatments are understood, identified, treated properly.
It's time to break free from the stigma of mental illness. The conventional medical paradigm has led us believe that anyone suffering with a mental health issue is doomed for life, but functional medicine-based interventions have shown promise in changing this perception and improving lives across all spectrums including depression or anxiety disorders